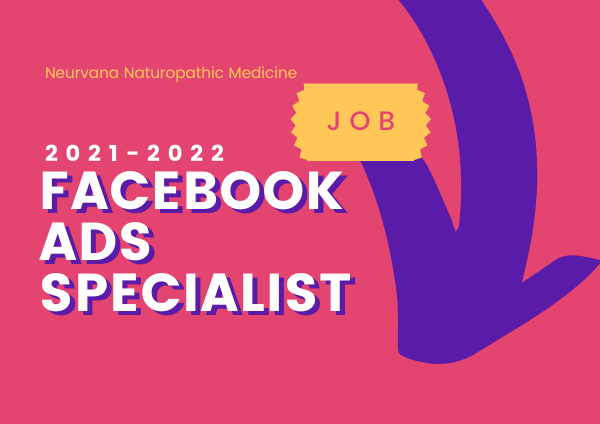 Confirm that:
🕘 30 hours a week
💡 1 year experience
💰 USD 5,600 per month
🚀 Fast-growing company
🗺 Anywhere in America
📅 The application deadline is November 17
Are you an optimistic Facebook media buyer and like the feeling of getting a very profitable ROAS? If so, you might be a good fit as an extension of a contracted Facebook advertising specialist on the Neurvana™ team.
We wholeheartedly believe that the drudgery of reading medical articles for hours on end is one of the biggest obstacles for people to find true lasting relief from complex chronic problems-we know this because we have experienced it. Finding a clear and feasible solution should not be as painful as the condition itself.
That's why our mission is to weed out those dusty old medical articles and let people learn about chronic health issues easily and happily through the use of videos and social media. By distilling complex topics into easy-to-understand, bite-sized videos and posts to adapt to people's busy lives, we saved the audience hundreds of hours of research and trial and error. When dealing with chronic diseases, time becomes extremely precious. Nothing is more precious than the time when dealing with complex medical conditions.
To become a Neurvana™ Facebook advertising expert, a supplier must be professional, courteous, attentive, and accurate at the same time. They should always be prepared and react, and be willing to adjust when faced with challenging situations.
If you feel that this describes you and you can influence people's lives in a positive way, then we encourage you to continue reading.
What you'll be doing:
Adopt and deploy Curts Maly's BELT method
Observe the coverage of content posts created by your team in Facebook Page Insights
Follow the BELT method to turn compelling posts into specific ad types in Tofu and MOFU
Create custom audiences from which to initiate retargeting campaigns
Instruct the content team to produce specific BOFU assets, such as images, graphics, and videos, to be used in activities to convert potential customers who are ready to buy
Create saved audiences, custom audiences, and lookalike audiences
Set up advertising accounts for new practitioners (clients)
Set up FB pixels, custom conversions and successful tracking of activities
Track time through our time tracking software (ClickUp)
Work with your team in our project management software (don't worry, it's very lightweight and fun to use – ClickUp)
Set up tracking and analysis reports, such as SegMetrics, DataStudio, and Facebook's own built-in analysis (we are open to any analysis tools you like)
You're someone with:
Passionate about digital advertising and use influence to make a positive impact on people's lives
Have in-depth knowledge of Facebook Ads Manager, but have not set up any methods or strategies
Open mind and desire to learn
Ability to learn quickly and put new principles into action
Comfort for alternative medicine (We are a group of comprehensive medical practitioners who only engage in evidence-based scientific research and use the right tools to do the right work in law, ethics, and ethics.)
Friendly, participatory and caring attitude
Critical thinking, procedural skills, quality attention
Positive attitude
Good at communicating with people
High level of computer
Ability to work independently, proactively and effectively without continuous supervision
Excellent organizational skills
trustworthy
A desire for long-term participation and opportunities for promotion-finding a job is very tiring for you and growing up with a familiar team is very exciting for you.
Responsibilities:
Keep up to date with the latest changes in the Facebook platform-if you are a samurai, then Facebook is your familiar sword
Fully own all advertising functions
Achieve and maintain a healthy ROAS on the total account expenditure
Maintain correct tracking data through the correct use of pixel placement and the use of conversion APIs (we have a system that makes it easy to use without the need for extensive custom programming)
Meet the election deadline
Communicate with team members in a professional and responsive manner
Spot trends and seize opportunities without guidance
Test new activities and strive for better results
Unless you want to, you don't need to communicate with customers.
Send a report to the account manager summarizing the work you have done on each account each month and explaining the results obtained
Always comply with Facebook TOS and privacy policy
Regularly meet with account managers and content architects to share ideas and coordinate activities-we firmly believe that ineffective feedback loops can be continuously digged deep and mastered, rather than scattered.
Requirements:
Competent attitude
Willingness to learn
30 hours a week, you can do your best job anytime
Work in the U.S. time zone
Proven teamwork ability
Excellent written and communicable English
Complete Curt Maly's Fast Track BELT method training
A deep understanding of value-based marketing and copywriting-copywriting may not be your business, but a deep understanding of the factors that attract content is a must
Your own computer, webcam and strong and reliable internet connection
Sign a confidentiality agreement, because some of the materials you will process contain personal health information and know-how
A good track record of willingness to go beyond and follow T's instructions
At least 1 year of experience in running Facebook and Instagram events
Ability to set up advertising accounts, audiences, custom conversions and analysis
A solid foundation of TOFU, MOFU, BOFU
Have experience in managing a team or working with a team
Experience running profitable advertising campaigns
Thorough understanding of Facebook business managers and advertising managers
In-depth understanding of Facebook TOS and privacy policy
Disclaimer: _ The information contained in this website is for general information purposes only. The website aims to connect job seekers with potential employers and provide relevant job search resources. _ Please note that if you find any job closed, we will update that job as soon as possible. or
Find current job openings Here
. All The Best