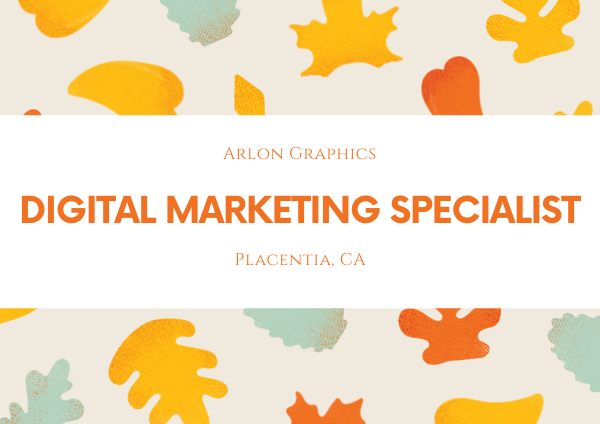 Arlon Graphics, LLC is a certified best workplace casting vinyl manufacturing company dedicated to creating innovative materials for visual expression. Founded in 1958, Arlon Graphics manufactures and sells high-quality pressure-sensitive materials for the fleet, construction, digital imaging, and signage markets. Through more than 180 distribution partners worldwide, an increasing number of strategically positioned sales offices and warehouses, and customer-centric operations, Arlon is recognized as a global leader in the field of graphic films. Join the Arlon Graphics conversation and follow us on Facebook, Instagram, Twitter, and LinkedIn via @Arlon graphics. For more information, please visit arlon.com.
This position will be responsible for increasing our brand awareness through social media channels, growing our online community, and creating marketing and technical content for Arlon. This person will be a key contributor to multiple potential customer functions, including content development, social media, etc. This role reports to the marketing director but will work closely with the entire marketing team. This position is responsible for formulating and executing our social media strategy and analyzing the effectiveness of digital marketing activities.
Requirements:
Content creation responsibility (40%)
· Create brand-related, purpose-oriented, diversified, and effective content to reach and attract our target audience; work with our technical solutions team to ensure that we capture technical marketing information, and work with our visual designers to ensure brand consistency. Requirements vary greatly, including video editing, blog post writing, basic graphic design, photography, etc.
· Work with our technical solutions team to develop a 12-month content calendar for North America and Latin America based on marketing activities.
· Be the gatekeeper of all content-make sure that all content is proofread and applied before publishing.
Social media and community participation (30%):
· Work with the digital marketing manager to develop a comprehensive social media strategy, using Arlon Graphics' major social platforms in North America and Latin America (Instagram, Facebook, YouTube, Tik Tok, LinkedIn) to implement our marketing strategy, increase brand awareness, and engagement.
· Create, plan, and manage all daily published content (images, videos, copies, stories, scrolls, etc.) on all social platforms.
· Proactively identify opportunities in user-generated content that add to Arlon's narrative and connect with our customers.
· Attend and actively (reply to questions and comments on social media) to maintain the freshness and continuity of participation; participate in real-time community conversations on behalf of the brand.
· Have a DM; answer questions in a timely manner, confirm the content created by others for our brand through likes or messages, provide customer service when necessary or report issues to internal personnel, and share key content of influencers with other members of the team for them Develop these content relationships further.
· Develop and implement a participation strategy that focuses on initiating dialogue, building one-to-one relationships, and leveraging influencers in our industry.
· Maintain an authentic social voice to strengthen the Arlon brand, expand its reach and improve the customer experience.
· Track key performance indicators (KPIs) to ensure activity tracking meets expectations.
Digital marketing execution (30%):
Manage the execution of daily digital marketing activities, including the use of automated software to prepare and execute landing pages and emails
Proofread the clarity, grammar, and spelling of emails
Organize and maintain a customer database
Assist in the implementation of paid activities
Manage online content (edit and publish web pages and blogs) through the CMS platform, including SEO editing
Assist in analyzing marketing data, including campaign results, conversion rates, and online traffic to improve future marketing strategies and campaigns.
Skills Required:
· A bachelor's degree in marketing, communication or related disciplines.
· Spanish bilingual
· At least four (4) years of work experience in related or similar fields.
· Strong communication skills (writing, oral, speaking, listening, interpersonal communication)
· Experience using Facebook Business Suite, Sprout Social or other social analysis/social listening tools
· Experience in using Adobe packages, Premiere Pro, InDesign and Photoshop.
· Working knowledge of email marketing platforms (Hubspot, Mailchimp, Constant Contact)
· Demonstrated leadership ability to formulate and successfully implement social strategies on multiple platforms.
· A powerful combination of homemade/curated social content; must include videos and stories and examples of brand voices.
· Strong ability to implement standard processes and attention to detail.
· Can coordinate resources (personnel, materials, and support) to perform the task at hand.
· Strong visual insight and understanding of creating photo and video assets.
· Ability to track and utilize KPIs while understanding the rapidly changing social media landscape.
· Work well under deadlines and pressures and handle interruptions well.
· Provide copywriting suggestions, comments, and insights. Maintain a keen editorial vision through copywriting and creativity.