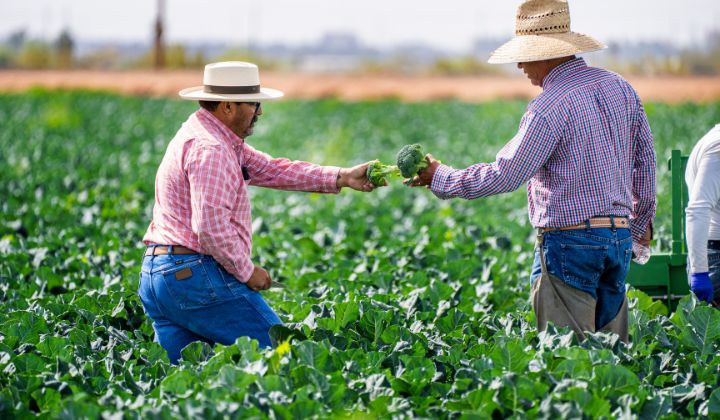 Job Position: Farm Leading Hand
Location: Victoria, 3496, Australia
Employment type: Full Time
Salary: $46,000 – $49,000 Per Year
Farm Leading Hand Horticulture Workers in Vic:
Responsibilities & Duties:
X-plane (ground leveller)
Harrowing
Discing
Smudge bar
Slashing
Orchard and weed spraying (being able to fill in appropriate information about chemicals used, daily weather, PPE, machine operation and setup etc.)
Handling of Ag chemical (Chem Cert req.)
Operating harvest machines and equipment:
Sweeper
Pick-up
Bankout
Elevator operator
Assist with irrigations duties:
Block Flushing
Cleaning filters
Repairing leaks
Fertiliser mixing
Other Farm Leading Hand Duties:
Operating a telehandler, pushing out pruning's, loading trucks etc
Operating an RTV
Assist with tree maintenance and pruning
Assist with general maintenance and repairs
Undertake training as required.
Perform out of normal hours and weekend work as necessary or as directed by the Farm Manager/2IC
Ensure all Occupational Health & Safety procedures are followed, Company policies and procedures are implemented, and that all staff adhere to the quality assurance system and training programs.
Communicate with all staff to develop a co-operative and harmonious work environment.
Ensure all equipment used is kept safe, clean and in good working condition.
All other duties as directed by the Farm Manager/2IC
Remuneration will be based on experience and range from a Total Fixed Remuneration package of $46,000 to $49,000.
In exchange for your experience, commitment to safety and results, you will join a fast-growing industry and company. We offer a safe, collaborative culture with a multi-cultural team, community focus, with training and development opportunities.
Farm hands required in Robinvale VIC:
We have an opening for the following roles based near Robinvale VIC
100 casual farm hands (as per Horticulture Award MA000028, Level 1)
Approximate commencement dates are November 2023. This job is seasonal and will run for approximately 6 months until May 2023. During this period you will receive an average of at least 30 hours per week.
Responsibilities:
Performing general labouring duties.
Fruit picking and pruning.
Performing a range of farming tasks
Sorting, packing or grading of produce.
All positions will be working at a farm near Robinvale VIC Applicants must be available to work weekends and public holidays as required. You do not have to be an Australian citizen to apply for this work, but you will need to be on a valid working Visa.
Leading Hand in Melbourne, VIC:
We have opportunities for dedicated Leading Hands to join our team working on projects across all of Melbourne due to a consistently growing pipeline of work.
Reporting directly to the Site Supervisor, you will primarily be responsible for leading teams on site – contributing to the safe, successful and high-quality delivery of your assigned projects.
Demonstrate and comply with all safe working policies and at all times
Participate in, and when required, conduct toolbox and pre-start meetings
Maintain up to date knowledge of project quality requirements and stipulated outcomes for the project through specifications, plans, technical drawings, permits, council requirements, etc.
Actively support the Site Supervisor to meet productivity, budget and quality targets for the project
Assist in coordinating plant, material and internal and external human resources on site
Ensure project is running effectively and efficiently in Site Supervisor's absence
About you:
To be considered, you'll need to demonstrate the following:
1-2 years experience as a Leading Hand within the civil construction sector preferred
Effective verbal and written communication skills
Demonstrate strong planning and organisational skills
Positive, proactive with a can-do attitude
Self-motivated and displays initiative readily.
Exhibit high personal and professional work standards, and a willingness to learn
Keen to progress your career in operations management
All relevant industry tickets and licenses
Job Offer:
Rokon provides a family oriented and supportive workplace environment with training and career development opportunities.
An attractive hourly rate plus overtime (currently paid straight to double time) along with a company vehicle will be provided. We also have fast track programs for those looking to step up into a Supervisor role in the future.
Experienced Livestock Farm Hand in Hamilton, VIC
Be part of a family-owned and operated mixed livestock farming team.
Livestock Farm Hand Role:
Are you a capable and independent livestock person who has experience in property maintenance? Are you looking for a career opportunity where you can progress within the enterprise? This role is for you…
You will work alongside the manager and other permanent/contracting staff in a senior farmhand role.
Our client owns and operates a sheep breeding, prime lamb and commercial cattle business covering 1,600 ha at the foot of Mt Napier, near Hamilton, Victoria. This picturesque property has developed laneway systems, and undercover sheep and cattle yards and has undergone significant improvements in fencing and pastures enabling increases in efficiency and carrying capacity.
Currently running 7,500 self-replacing composite ewes and 750 commercial Angus breeding cows as well as a hay and silage program in Spring. Along with being involved in all elements of livestock management the successful candidate will be required to undertake a variety of daily tasks including fencing, yard building and repairs, welding and machinery maintenance.
The Ideal Candidate:
The ideal candidate is someone who has;
Experience with sheep and cattle operations including pasture management
The ability to work in a team environment
A passion for livestock and experience with low-stress handling techniques
High regard for quality and pride in one's work
Experience in fencing and maintenance
A willingness to engage with farm management technology, including Agriwebb and FarmO
A going team of reliable working dogs
Farm Leading Hand Offer:
On offer is a salary in line with skills and experience with accommodation to suit a family in the way of a 3-bedroom, 1 bathroom with wood heating and reverse cycle.
The property is located 10 minutes from Hamilton which is a lovely country town that offers all the essential services including primary and secondary schooling, health and shopping. A variety of other activities are convenient for you to enjoy in your downtime with fishing, camping, water sports, football, tennis, golf, and lawn bowls all offered close by.
Our client has the capacity to accommodate work for a partner, work will depend on the partner's skillset and availability.
Want this job?
If you feel you're suitable for this role, please apply with your current resume and the names and details of a minimum of three references who can be contacted. Preference will be given to those who supply a cover letter indicating their suitability for the role. If you have any further questions please contact Olivia at 0400 740 698 or at [email protected]